Medicinal Marijuana SA: Clinics, Treatment & Laws
Medical cannabis for human use has been regulated as a medicine in South Australia since 2016. The federal legislative changes came into effect and the patient access pathway to aquirer medical cannabis products accordingly.
---
The cannabis treatment in SA is available for certain medical conditions and is prescribed by your health practitioner. Cannabis clinics are experts in the prescription process of cannabis that suits various illnesses and disorders.
Note: The information given on this page is not medical advice and should be taken in conjunction with medical professional advice. Individuals wanting medical advice on this issue should consult their local healthcare professionals.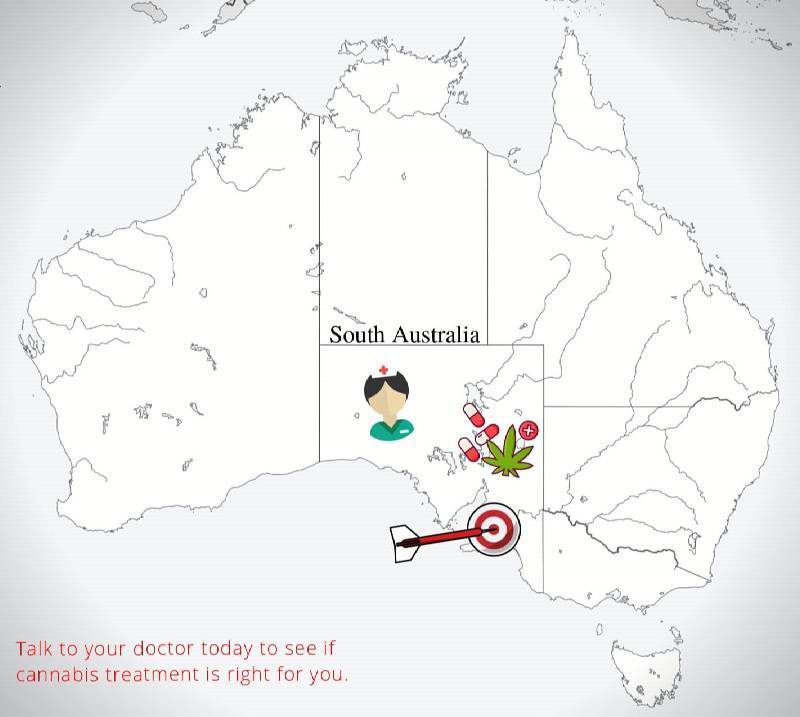 General practitioners have the ability to prescribe medicinal cannabis
In South Australia Medical Cannabis was regulated as a medicine in 2016. The federal legislative Read More came into effect and with it, so did the the patient access pathway to acquire medical cannabis products. All practitioners in South Australia can legally prescribe medicinal cannabis as long as its appropriate course of treatment. additionally, no further requirements are needed for practitioners to prescribe the Schedule 4 medicines cannabidiol CBD in South Australia. However, products that contain THC (Tetrahydrocannabinol) are counted as schedule 8 and require further approval from the government.
After your doctor agrees to try cannabis as an additional treatment, an application will be submitted to the Therapeutic Goods Administration (TGA). Government approval is required to be granted cannabis based medical treatment (2 - 4 weeks estimated time).
What is category 8 medical cannabis?
The South Australian Controlled Substances Act 1984 regulates the prescription and dispensing of medicines in South Australia and applies to medicinal cannabis products.
For THC based products a section 18A authority to prescribe a medicinal cannabis is required:
Section 18A was put in place to combat drug addiction and substance abuse in the schedule 8 category
After 2 months of treatment or before commencing treatment, if the medical practitioner has reason to believes a patient is dependent on drugs they can reassess the access to these substances.
Therefore, there are two exceptions that require further special approval from more than just general practitioner, children under the age of 16 and patients with a history of drug abuse.
If your doctor believes it is appropriate to incorporate cannabis as an additional treatment, an application will be submitted to the Therapeutic Goods Administration (TGA). Based on the 'Special Access Scheme', approval will be based on the severity of your condition and type of medical treatment already underway. TGA government approval is required to be granted cannabis treatment (2 - 4 weeks estimated time).
How a patient can access medicinal cannabis in SA?
Talk to your treating doctor about whether medicinal cannabis may be suitable as a treatment for you.

You will be required to give informed consent and sign that you are aware of the effects of THC and the laws against operating heavy machinery if medical cannabis contains primarily THC (Tetrahydrocannabinol) rather than CBD Cannabidiol.

Your GP will contact the Commonwealth Therapeutic Goods Administration (TGA) for approval to allow the supply of the product.

Your GP will also need to arrange for a pharmacy to dispense the medication to you within your local area.
Things to consider when taking medicinal cannabis
You cannot drive
Research has shown that cannabis use has an effect on a person's ability to drive (Read More). Unlike alcohol, there is no specific concentration of cannabis that can be identified as an indicator of impairment. It is illegal for any patient being treated with medicinal cannabis containing THC to drive while undergoing treatment.
School-aged children
If a patient is at school, they can have the prescribed product administered at school in the same way as other medicines. Medicinal cannabis is not a "rescue" medication, and it would not be given in an emergency situation. Children usually receive doses of medical cannabis twice a day, therefore it's unlikely to be required at school with a morning/evening schedule.
---
Disclaimer: Cannabis Place are not doctors and we recommend consulting health professionals for accurate information. This site may contain information regarding drugs. This medicinal cannabis content is designed for an 18+ audience. Click here for our full disclaimer