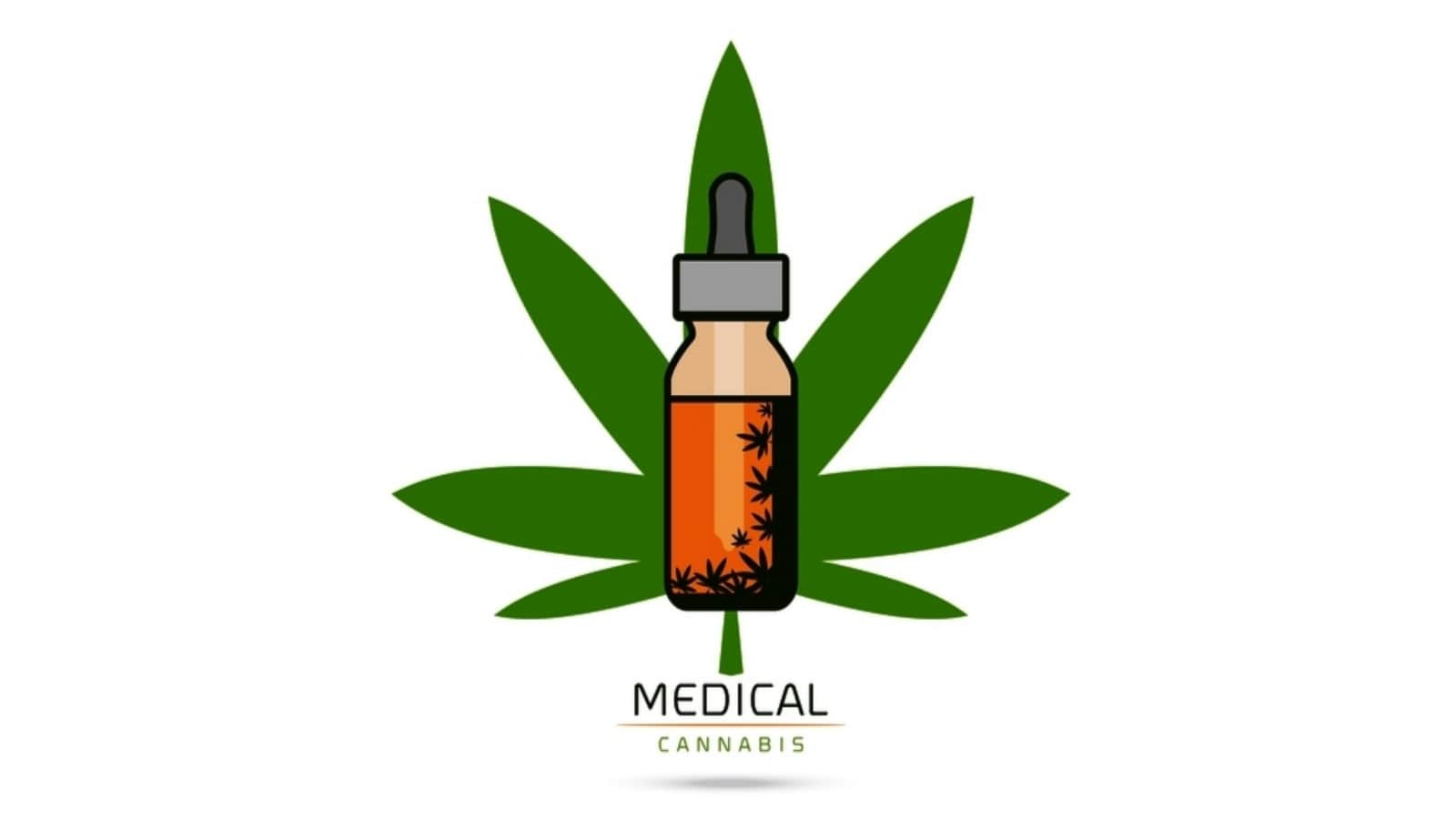 The Different Types of CBD Oil in Australia
There are different kinds of CBD oil used for medical and therapeutical treatment. The three main types of these are pure CBD, broad and full-spectrum.
---
To many Australians, it is a surprise to find out that there is more than one kind of cannabidiol (CBD) oil available.
In this article, we will walk you through the three main types of CBD oil, their effects on our body and the medical applications of each.
The three main types of CBD oil are the broad-spectrum, full-spectrum and pure CBD isolate (concentrated form). Full-spectrum and broad-spectrum contains different kinds of cannabis compounds as well as the Cannabidiol (CBD) compound. The pure CBD isolate has no psychoactive cannabis compounds and is used to treat Anxiety, Depression, Epilepsy and more.
What is CBD Oil?
CBD oil, otherwise known as Cannabidiol, is the most popular medicinal cannabis medicine in Australia and New Zealand.
It is used to treat a large variety of medical symptoms from chronic pain, to anxiety, to seizures and nausea.
Popular for its minimal side-effects, fast-acting relief, and natural properties, CBD oil has quickly become the most sought after medicine in Australia since legalised in 2017.
Thanks to North America and Europe's research into the medical application of CBD oil, Australia could fast-track the manufacturing, supplying and prescribing of medicinal cannabis.
Cannabis clinics in Australia and New Zealand prescribe CBD oil that patients can take through CBD droplets on their tongue, in their tea, water or food.
In our previous article, we covered how to access medicinal cannabis (CBD & THC oil) here.
The CBD Oil Extraction Process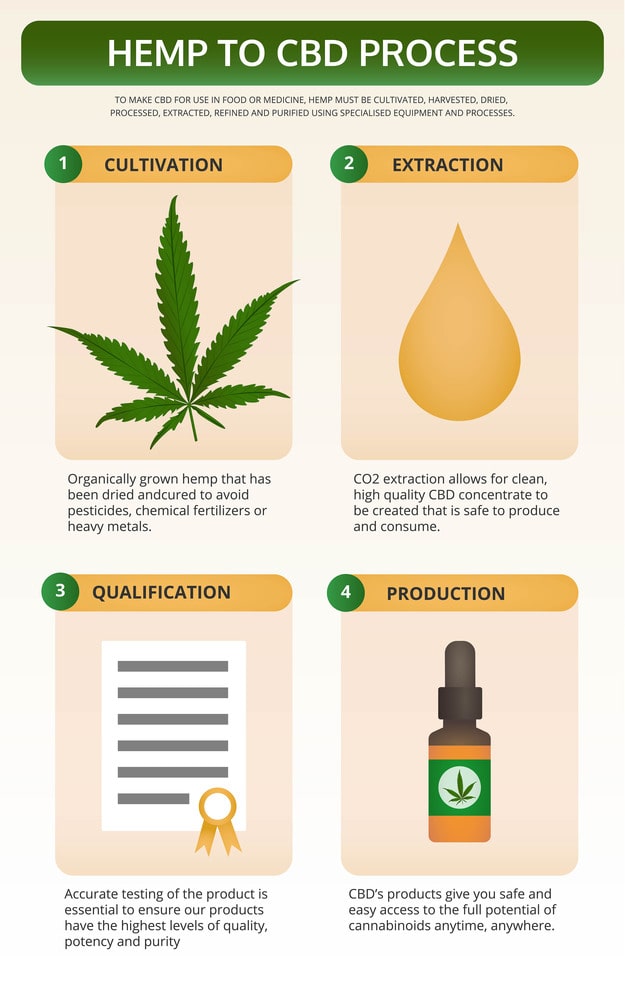 To Make CBD for the use in medicinal oil, cannabis Hemp or Marijuana plants are first cultivated.
The process to extract CBD oil from cannabis plants includes:
harvest the cannabis plants
dry the harvested plants and flowers
use CO2 extraction for clean cannabis oil
if necessary, filter out compounds to create CBD isolate
refine, purify and qualify the CBD oil
Bottle and ship to the patient
The Different Types of CBD Oil
There are more kinds of CBD oil available today than ever before!
Each form of CBD oil has therapeutic and medicinal effects, but it is important to know the difference and pros and cons each product has.
CBD oil products come in a variety of different concentrations, and choosing the right type for you may be overwhelming.
Each one has different effects and therapeutic uses, and it is up to your health professional and yourself to decide which CBD oil is best suited for your medical condition.
CBD Isolate
Most medicinal cannabis oils come with a mixture of different compounds such as CBD, THC, CBN.
CBD Isolate is different. It is a pure concentrate form of CBD without no other cannabis compounds, acids or terpenes.
Once the plant is matured, the extraction technician will start extracting the oils from the cannabis plant.
Normally the process would end here, but for CBD isolates, they then filter out the CBD from the extracted oils to isolate CBD in its purest form.
Why would patients prefer CBD isolate over other CBD oils?
That's a great question! There are many psychoactive compounds in cannabis, and CBD is not psychoactive. The psychoactive properties in cannabis may have adverse effects on patients with depression, anxiety and other related medical issues. So the CBD isolate, a non-psychoactive compound is the preferred medical treatment.
CBD Full-Spectrum
The CBD full-spectrum oil is the complete package. Unlike the CBD isolate, the full-spectrum oil includes all the cannabis compounds, acids and terpenes.
This makes the full-spectrum CBD oil the most natural form of medicinal cannabis oil as once its extracted from the plant; the chemical compounds are not manipulated.
The extraction process is the same as the CBD isolate process; however, it stops once the technician has extracted the cannabis oils from the plants.
The full-spectrum CBD oil features an entourage effect that has increased therapeutic effects when treating chronic pain and cancer-related symptoms.
Keep in mind, research and clinical studies on the use of the full-spectrum CBD oil is still ongoing in Australia and the rest of the world.
CBD Broad-Spectrum
Broad-spectrum CBD oil is a combination of the CBD isolate and CBD full-spectrum oil.
The main difference with this oil is that it has every cannabis compound except for THC.
The concept behind the creation and medical use of the broad-spectrum CBD oil is to maintain the entourage effect without the inclusion of THC.
This benefits patients looking for the therapeutic benefits of the cannabis entourage effect, but cannot take THC due to medical issues or legal restrictions in the region.
How To Choose The Right Kind of CBD Oil
Now that we understand the different types of CBD oils available, how do we know which is best suited for you?
We recommend speaking with a health professional when looking for which CBD oil best treats your medical condition.
Here are some tips on how to choose the right type of CBD oil for you.
1. Choosing The Right CBD Concentration
CBD oil comes in the form of oil, capsules, wafers and more. Each product has varying concentrations of CBD.
Your doctor and pharmacist will advise you on the ratio of CBD in your oil before you receive it.
CBD is measured in two ways:
mg, such as 200mg, 400mg, 800mg, and 1,000mg
percentage, such as 5%, 10%, or 20%
When you are first prescribed medicinal CBD oil, doctors may start you offer with a lower dosage, then gradually move up to a higher dosage with each future doctor's visit and a new prescription.
2. The Price of CBD Oil
Australia's price for medicinal cannabis is quite high, and even though its the lowest its been since it was legalised a few years ago, the most significant complaint from patients is the cost.
The daily cost for medical CBD oil can range from $5 up to $20 per day, and for most Australians, this can be a heavy financial burden.
Unfortunately, most private insurance funds do not support non-PBS medicines.
Discussing your options with your doctor, and understanding the varying costs for different brands and quantities may help make CBD oil more affordable.
3. CBD Isolate, Full-Spectrum or Broad-Spectrum?
The main take-away question we can get from this article is which CBD oil type is the best for you?
Depending on your medical condition and preference, the decision of CBD oil isolate or full-spectrum oil is left up to you.
Your doctor will be able to discuss the benefits of a non-THC CBD isolate or full-spectrum oil, and how it best treats your medical condition.
4. CBD Oil, Capsules or Wafers?
There is a large variety of CBD oil products available in Australia and New Zealand.
The most common is CBD oil in a bottle where you take droplets once or twice a day.
CBD oil is the most preferred and affordable method.
Capsules, wafers and other medicinal products are available. They may be easier to take, but overall, will have the same effect.
A discussion with your doctor and pharmacist will let you find out what products are available locally.
Conclusion
The most popular form of medicinal cannabis is CBD oil.
CBD oil comes in three my types:
CBD isolate
CBD full-spectrum
CBD broad-spectrum
CBD isolate is the purest form of cannabidiol and does not include any other cannabis compound, acids or terpenes.
CBD full-spectrum is the most natural form of cannabidiol, and is simply extracted from the plant with all the cannabis compounds, acids and terpenes.
Broad-spectrum is the same as the full-spectrum, except that the THC is extracted from the oil so that patients can have the entourage effect with little-to-no psychoactive effects.
The choice of which type of CBD oil is best in Australia is left to yourself and your doctor. Cannabis Place provides relevant information and research, but we recommend the final decision to be made by yourself and a registered health professional.
What are your thoughts on the different types of CBD oil? React and leave a comment below!
---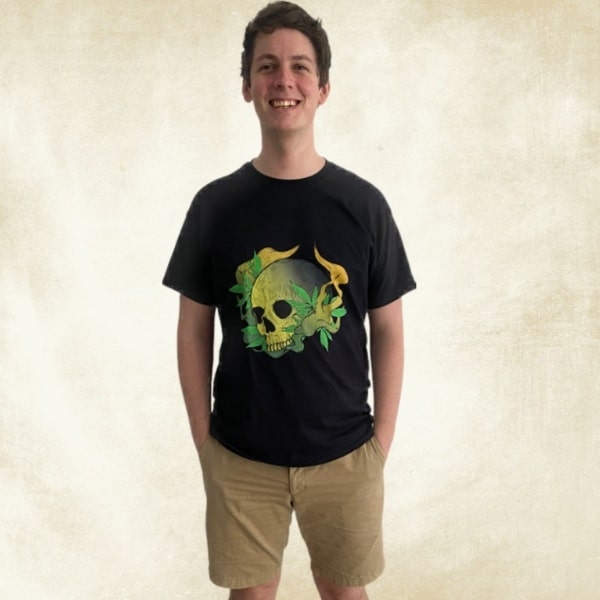 James is an experienced writer and legal cannabis advocate in Australia. He answers all the questions about business, legalisation and medicinal cannabis.
Disclaimer: Cannabis Place are not doctors and we recommend consulting health professionals for accurate information. This site may contain information regarding drugs. This medicinal cannabis content is designed for an 18+ audience. Click here for our full disclaimer